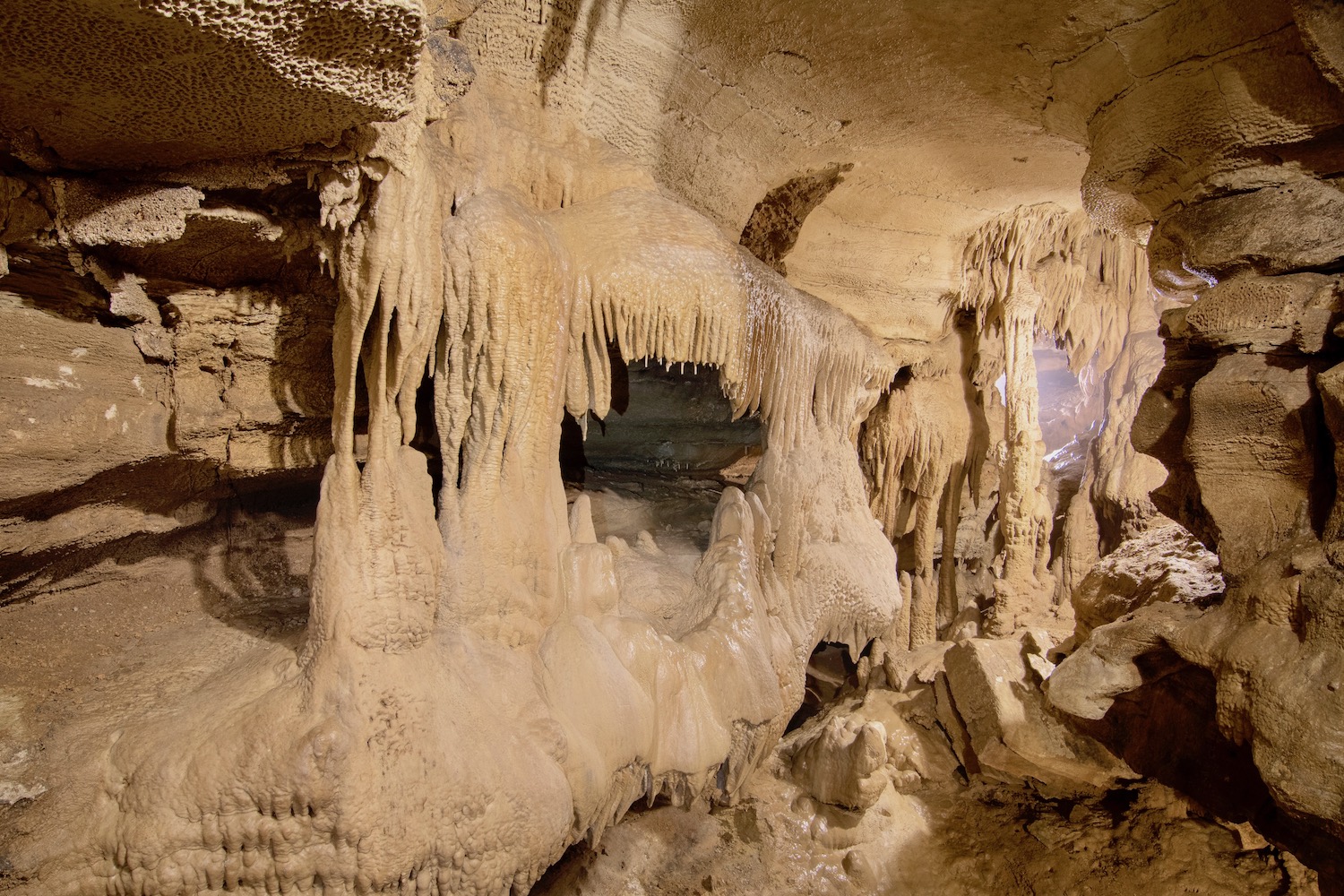 Crystal Onyx is one of Kentucky's premier show caves with spectacular beauty throughout. Our cave, located on Prewitts Knob is a living, growing cave.  You will be walking among a vast and diversified array of formations up close throughout the cave on your one hour, one half mile tour.  Tour group size is small with a comfortable pace and plenty of stops so you can see all of nature's wonders, take pictures, relax and enjoy.  
Your adventure begins outside with a short walk to one of the many sink holes and caves on our property. You will descend down safe concrete and steel steps into a well lit speleothem rich cave. The meandering trails have recently been renovated with groomed crushed limestone, new steps and handrails. The average temperature in the cave is 58 degrees F or 14.5 C.   Crystal Onyx is family owned and operated with a laid back approach and unscripted tours.  
Please check out our excellent Google and TripAdvisor reviews. But, don't be confused, there is another local cave using a similar name. We are Crystal Onyx Cave, established in 1960.
Good to know before you go:​
March 1st – Oct. 31st 2023 10:00 am – 6:00 pm Central. NO set tour times. Tours depart on approximately 30-45 Min. intervals throughout the day.
Nov. 1st – Dec. 31 st 10:00 am – 4:00 pm. Tours at 10:30, 12, 1:30 and 3:00.
Jan. and Feb. Closed to walk ins, private tours only. See our "ABOUT" page for details or call 270-773-3377.
Reservations are available but not needed except for groups of 12+.
Inclement weather:  No tours if there is any snow or ice on the ground. Business will be closed. Closures will be posted on our Facebook page.
We have RV and Big Rig parking available.
You may contact us for exclusive/private tours year round. *Terms apply, see notes on the "ABOUT" page.  
We have two tour routes that run at our discretion, they are both spectacular. 
The cave is 58 degrees F year round, dress appropriately. Good walking shoes are recommended.
If you have a reservation at another local establishment please allow yourself a minimum of 2 hours here plus travel time.
Name confusion. Several local caves have similar names: Onyx Cave, Mammoth Onyx Cave, Great Onyx Cave, Crystal Cave… They are all different caves We are CRYSTAL ONYX cave, just three miles East of I-65, exit 53.
Know the "NOs" for the safety of our guests and the conservation of the cave:
Not handicap accessible, the tour is one half mile with 175 steps sporadically throughout the cave.
No backpacks, purses* or walking sticks* allowed in the cave. – * Medical exceptions will be made.
No tripods or selfie sticks.

Front baby carriers only, no piggy back riding.

No food, drinks, gum, tobacco products or vaping in the cave.
No pets except for properly trained service dogs. Be aware there is grating throughout the cave.
To protect our cave system, there are no public restrooms but clean porta-potties are available.

CRYSTAL ONYX Cave is well lit so flashlights aren't necessary.

We have many spectacular photo opportunities but no cell service in the cave. We recommend that you put phones on airplane mode, use auto flash and have them fully charged.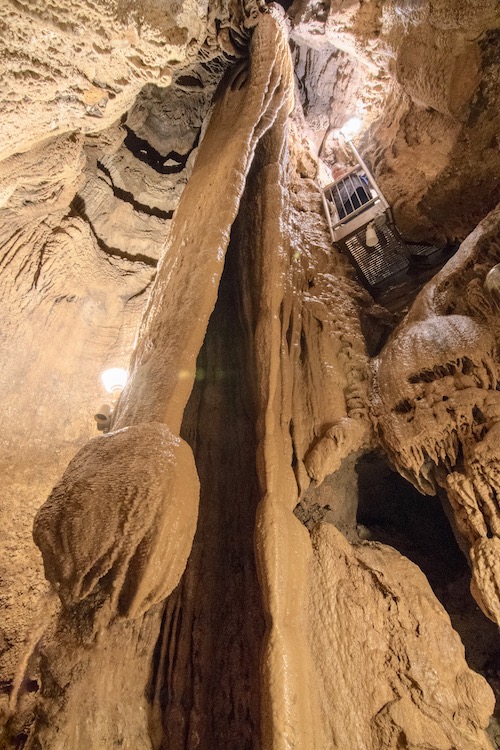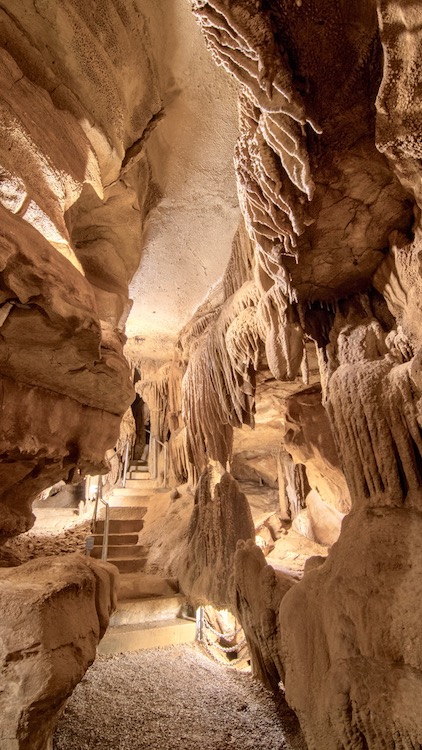 One of our reviews: Beautiful Close-up Experience! "This cave blew me away from my very first steps into the dramatic entry way. The walkways and lighting are beautifully done throughout the cave, with amazing features at every turn. Our small group was privileged to have one of the owners as guide. His commentary reflected the joy and pride he has in this special place. I've toured several caves, including the nearby bigger one, but none has captured my heart like this one. There's so much bang for your buck to be enjoyed here!"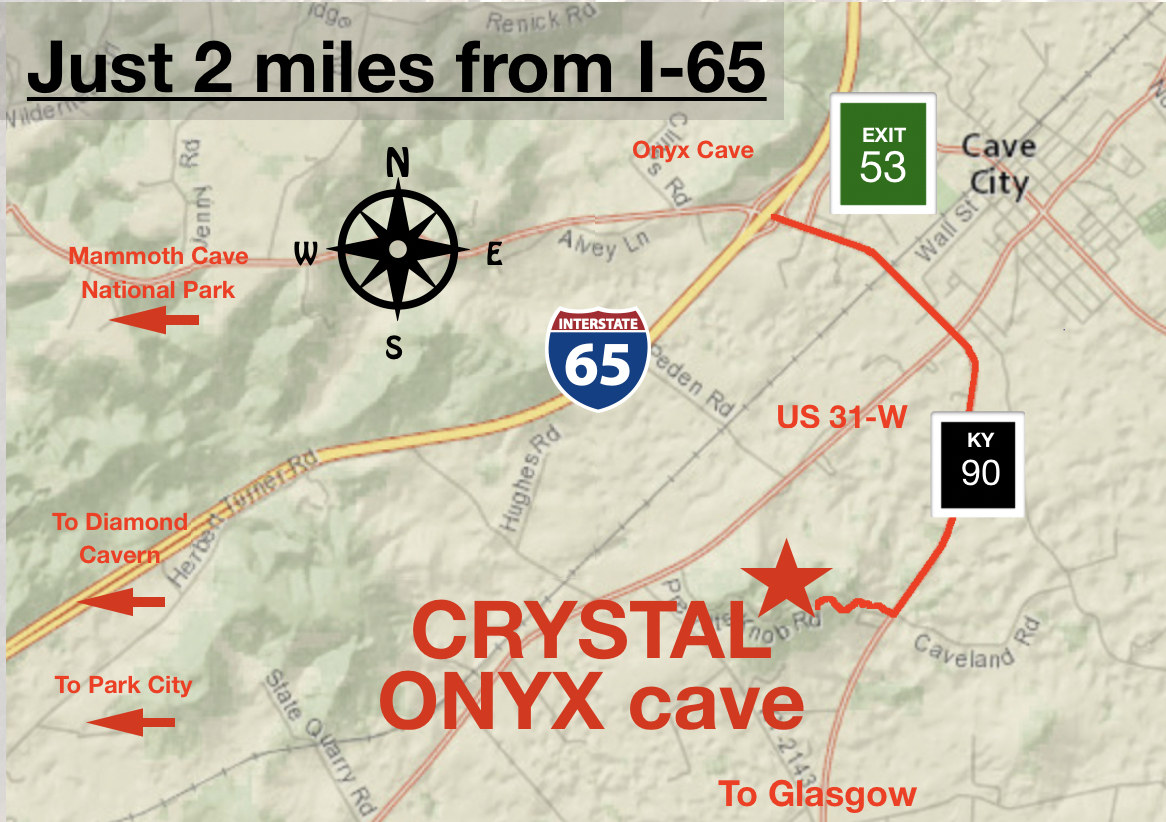 DIRECTIONS to CRYSTAL ONYX Cave
We are under the cell towers atop historic Prewitts Knob.
From I-65 take exit 53. Head southeast on KY-90 for Three miles to Prewitts Knob Road. Turn right at our sign and go up the hill 1/4 mile.  425 Prewitts Knob Road, Cave City, KY 42127.
DO NOT follow your GPS or AppleMap onto US 31-W.  Do not turn at any lights.

Click on the links below to see what others have to say:
Professional photos courtesy of Matt McClintock.