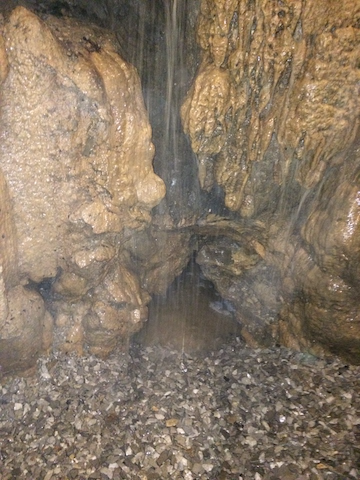 Conservation at Crystal Onyx Cave:  
This area of Kentucky gets over 50 inches of precipitation, mainly rain, each year. Much of the water that hits the Knob seeps into the limestone to add to the processes forming our caves.  Some water eventually seeps out at the bottom of the Knob as springs. The cave never closes during rain storms because of that drainage.
We have taken several measures to insure that our cave stays natural. 
The Lower Parking Lot. 
When we bought the cave, the area near the main entrance to the cave was paved and used as a parking lot.  This area is over the Wedding Chapel and as a result that part of the cave had dried out.  One of the first things Scott did was to remove the asphalt and replace it with gravel.  Since then the parts of the cave below the lot came back to life.  There haven't been weddings down there in a while, but Scott can get a mail order license to perform the ceremony.
Sewage disposal. 
There is no sewer service in this part of Barren County.  Any septic drain field would seep into the limestone and potentially harm the cave. To prevent that, we have porta-potties here that are cleaned daily and emptied weekly.  
The old campground has remained closed because its septic method was to drain waste water into a sink hole.  Trash was also disposed of in another sink hole that we have been trying to clean up.
Don't touch.
We emphasize the rule that people shouldn't touch the formations.  This is because the oil from your hands penetrates the formations and causes them to die.  New calcite can't be deposited to add to the formations. You can see evidence of this along the trails.  Also, some formations, such as soda straws and the ceilings are very fragile and can be damaged by touching. 
Winter closure.
Our current season is from March 1 through December 31. 
Temperatures can cause freezing on the road and trails and create a hazard.  We won't use chemicals to melt the snow and ice because those might seep into the cave and damage it.  
Also this closure allows the cave to rest and be cleaned.  Without lights on and people breathing, algae won't grow.  We can wash off the lint from clothing, clean the steps and refresh the trails. Bats and other creatures can hang out unmolested.
Finally, being open EVERY day for months is hard work for a family run business and this gives us a chance to rest too.
Even though we are generally closed for tours from January and February, special arrangements can be made for group tours. Contact us for more information.